looking to buy a home?
Submit this Form and Benefit from our 25 Years' Experience & Strong Local Network.
Over the last ten years, the Malaga property market has mirrored real estate in Spain. The decade has been something of a rollercoaster, shifting from significant drops in prices and low sales to economic recovery and finally to the arrival of a pandemic. In short, a complete turn of the property cycle with fits and starts in the middle.
Idealista recently looked at Spain's largest property markets between 2011 and 2021 and included Malaga in its research. The conclusion? Both the resale and rental markets are experiencing upward trends and purchase prices have increased by over 17% in the last decade.
Background to the Malaga property market
As the Idealista research points out, Spain has suffered two major economic crises over the last ten years. The first had its roots in 2008 when the property bubble burst – the explosion was particularly loud on the Costa del Sol – and continued well into 2015.
The second crisis arrived with the pandemic in March 2020 and its effect continued to be felt across the economy. However, the health emergency has had a little lasting impact on the Costa del Sol property market.
Property prices in Spain 2011-2021
The first half of the decade saw prices plummet across the country with an average drop of 21% between 2011 and 2015. Since then, they have gradually regained ground with annual upticks. 2018 was a particularly buoyant year when they rose by 8%.
Growth then started to slow down before registering just 0.9% in 2020. However, 2021 saw a return to price increases and they currently stand at 4.4% below 2011.
See what's on the market in Malaga right now
Rental prices in Spain 2011-2021
Rental and purchase markets rarely follow the same tracks and in Spain's case, the two have taken very different paths. While property prices were in freefall, rental prices experienced significant growth.
For example, they went up by 11.6% in 2016 and 14.7% in 2017. By 2016, the average monthly rental rate stood at €8.30 per square metre, head of 2011 prices. By the end of 2020, rents in Spain were 37% higher than a decade earlier. However, 2021 marked a slight change in trends when rentals dropped by 4.5%.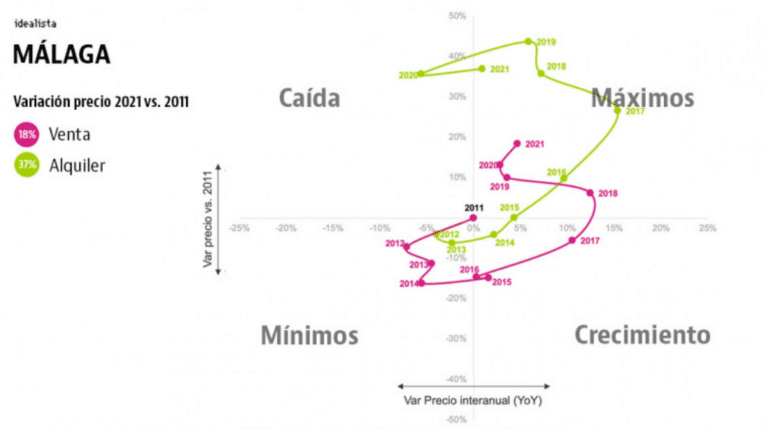 Malaga property market 2011-2021
Like the rest of Spain, property prices in Malaga took some time to recover after the 2008 bubble burst. However, the consolidated presence of foreign buyers on the Costa del Sol meant that the area saw a quicker recovery than Spain as a whole.
According to Idealista, prices were already rising by 2015. And by 2018, they went up by 12.5%, taking them ahead of 2011 values. Covid had little effect on prices, which rose by 2.8% in 2020. Last year saw a slightly higher uptick (3.8%) and they now stand at 17.5% higher than a decade ago.
Check out these new builds in Malaga
Malaga rental market 2011-2021
Rentals in Malaga have generally enjoyed a buoyant decade and performed better than those in Madrid and Barcelona. Rental rates in the capital of the Costa del Sol lost the least value compared to 2011 and at their least, prices were 6.1% below their peak.
Since 2013, they have risen consistently with double-digit increases every year, the highest in 2017 when rentals went up by 15.4%. 2020 saw a decrease (down 5.6%), but in 2021 rates returned to positive territory and currently stand at 43.7% more than a decade ago.
Buying in Malaga now
If you have the city on your real estate radar, get in touch with your requirements and our expert team will find the property to suit you. We have a wide range of resale and new-build homes, many of which offer excellent potential for buy-to-let investment.