looking to buy a home?
Submit this Form and Benefit from our 25 Years' Experience & Strong Local Network.
Estepona is one of the few resorts on the Costa del Sol that has managed to conserve its traditional feel. As a result, the town tends to be quieter than neighbouring Marbella and it maintains a low profile with none of the glitz and glamour you'll find in Puerto Banús, for example. But this family-friendly, almost village type atmosphere is one of the reasons behind Estepona's success. Over the last few years, the town, known as the Garden of the Costa del Sol, has become increasingly popular with holidaymakers and foreign property buyers.
It's also a sizeable resort that stretches for 21km along the Mediterranean from the Guadalmina River in the east to its border with Manilva in the west. Estepona boasts some spectacular scenery including Sierra Bermeja whose magenta-coloured peaks dominate the town's backdrop.
Within its wide area, Estepona has a number of districts, each with a different vibe and varying amenities. To help you choose the one for you, we've put together a guide to the best residential areas in Estepona. Our description runs east-west along the coast.
Like some insider tips? Our friendly team has lived and worked in the area since 1992 so they know Estepona like the back of their hands. Get in touch for some expert insideradvice.
Did you know? The area between Benamara and Punta Plata is also known as the New Golden Mile.
Best residential areas in eastern Estepona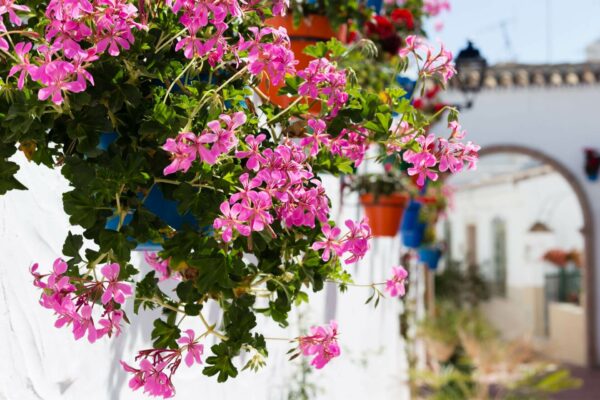 The area nearest Marbella ranks as one of the best-established in Estepona and offers excellent amenities. You'll also find easy access to Marbella and Benahavís, both just a short drive away. The main districts are:
Benamara-Atalaya
This eastern-most residential area of Estepona includes:
Casasola – right on the sands, one of the most select postcodes in Estepona and with Marbella right on your doorstep. Frontline beach villas are common here.
El Paraíso and Nueva Atalaya – on the north side of the A7 coast road and home to two classics on the Costa del Sol golfing scene: Atalaya Golf and El Paraíso Golf. Slightly to the west is one of the best hotels on the Costa del Sol, Anantara Villa Padierna, and golf complexes at Los Flamingos.
Atalaya and Isdabe – practically opposite El Paraíso on the sea side, this small district has several excellent hotels including Senator Banús and Marriott's Playa Andaluza.
Bel-Air and Cancelada – located in the central of this district, both are popular with families as state schools and amenities are on the doorstep.
Villacana, Costalita and Saladillo – on the beach side of the coast road, the trio sit on some of the quietest beaches on the Costa del Sol where you'll also find some classic chiringuitos. These districts offer a mix of older developments plus a smattering of new, particularly at Costalita.
Amenities in Eastern Estepona: the area houses a cluster of shopping centres with supermarkets and banks as well as smaller shops. There's also a good choice of places to eat. Services such as public health centres and state schools are at Cancelada and the area is also home to the private hospital Hospiten.
Why buy property in Eastern Estepona: an excellent choice of all property types including plots within easy reach of the quietest beaches on the western Costa del Sol.
What's on the market: see our listings at Los Flamingos and nearby
Need more information? Read our Area Guide to Estepona.
El Velerín
We now move further west and take in the district known as El Velerín. Its main characteristic is discerning property, much of it beachfront on another of the quietest sands on the Costa del Sol.
This part of Estepona is also no stranger to families because it's home to Selwo, one of the best wildlife and adventure parks in Spain.
This area includes the following residential districts:
Guadalmansa – right on the coast and around the river of the same name, this area has upped its luxury associations this year with the arrival of the first Ikos resort in Spain, Hotel Ikos Andalucia, which joins the 5-star Healthhouse Las Dunas.
La Concha and Resina Golf – up in the foothills of Sierra Bermeja Natural Park, this area has many new builds, particularly apartments and includes La Resina Golf and Country Club with Selwo Aventura just next door.
El Velerín – back down by the beach, this is one of the up-and-coming areas on the Golden Mile. New development is currently underway plus there are also high-end properties at well-established complexes such as Emare, Bahía del Velerín, Los Granados Playa and Dominion Beach.
Amenities in El Velerín: most amenities are located at nearby Cancelada, but this area excells in beach restaurants from traditional Spanish such as Chiringuito Torre Velerín to chill-out vibe at Sonora Beach via the exclusive beach club at Ikos.
Why buy property in Estepona, El Velerín: the range of properties here suits all tastes and budgets from lock-up-and-go apartments to frontline beach villas.
What's on the market: discover our listings in Estepona
Need some inspiration? Read our list of 16 things to add to your must-do list in Estepona
Punta Plata
Our final eastern residential area includes one of the most exclusive parts of Estepona and lies just outside the town centre. This district, known as Punta Plata, forms an intrinsic part of the New Golden Mile and is made up of:
Kempinski, Mar Azul and Garden Beach – this trio sits right on the beach and consists of high-end property including the 5*GL Kempinski Hotel Bahía.
Bahia de la Plata, Los Granados del Mar and Alcazaba Beach – the luxury touch continues with another trio of deluxe homes offering first-class communal facilities.
Los Llanos, El Padron, Reinoso and Forest Hills – on the north side of the A7 coast road, this district stretches high into the hills (Forest Hills is north of the AP7 toll road) meaning that panoramic sea views are a given.
Amenities in Punta Plata: amenities are excellent in nearby Cancelada and Estepona town centre.
Why buy property on the New Golden Mile Estepona: you want some of the finest real estate on the Costa del Sol but without the Marbella price tags.
What's on the market: discover all our listings in Estepona
Need some inspiration? Read our list of 16 things to add to your must-do list in Estepona
Best residential areas in Estepona Pueblo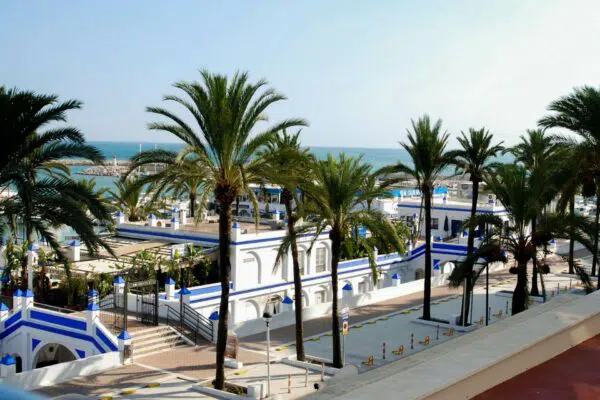 Estepona was once a traditional fishing village and it still retains its quintessential Andalusian charm. The town centre has recently had a major facelift and ranks among the prettiest on the Costa del Sol with its geranium-lined streets, flower-filled squares and attractive seafront promenade. It also boasts two large beaches, both family-friendly and very popular in high season.
Along with some fine monuments, the centre is also home to dozens of giant murals and sculptures, several good museums and the renowned Orchidarium with one of the world's largest private collections of orchids. The best residential areas in Estepona itself are:
The town centre – having amenities on your doorstep is the main appeal of this district where you'll find mostly apartment property types.
Puerto de Estepona – the town's marina (also a fishing port) sits at the far western end of the promenade and its lively vibe comes from its Sunday market and the excellent choice of bars, cafés and restaurants.
North of the centre – the main residential districts here are Huerta Nueva, Zona Calvario and Parque Central, the heart of local living.
Amenities in central Estepona: you'll find a good selection, particularly of traditional stores and excellent restaurants as well as schools and health facilities.
Why buy property in Estepona centre: you'd like everything on your doorstep with minimum need for the car.
What's on the market: discover new-build properties in this area of Estepona
Need some inspiration? Check out the best restaurants in Estepona
Best residential areas in western Estepona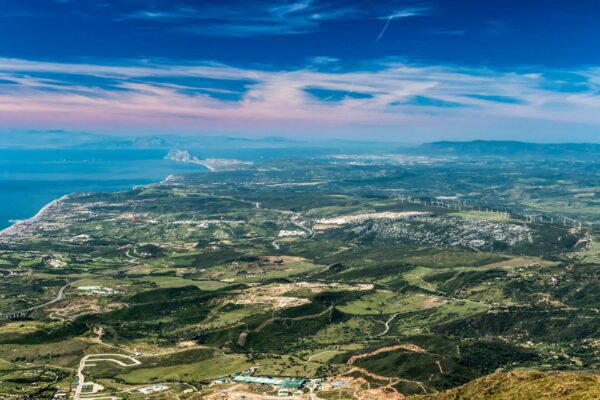 Once you move beyond Estepona Port, the scenery shifts slightly as you enter the greenest part of the Costa del Sol. The influence of the Atlantic, just beyond Gibraltar on the horizon, makes for a more verdant landscape. It's also a focal point for new high-end development in Estepona and popular with buyers who seek luxury homes in peace and quiet and within easy reach of Sotogrande.
The main residential districts on this side of Estepona are:
Altos de Estepona
As you might expect from its name, this residential district sits up high in the foothills of Sierra Bermeja to the north of the AP7 toll road. Properties here have commanding ocean views with a mountain backdrop. Apartments and villas are the main property type.
Seghers
So close to Estepona Port, Seghers is almost part of the town itself and you're within walking distance of many amenities. This is well-established residential area that includes a range of property types from studios and apartments to villas. They include some exceptional new developments such as Ilkkil Bay. Seghers has excellent access to the A7 coast road and a selection of amenities onsite.
Costa Natura
Back down on the coast, this one of the earliest residential areas on the western side of Estepona, but it's also focal point for several new cutting-edge developments such as The Edge. The district includes the naturist resort at Costa Natura and the Elba Estepona Hotel. Other popular places here are:
Guadalobón – on the beach of the same name, this quiet residential area is home to some high-end apartment complexes and is within a short drive of Estepona centre.
Valle Romano Golf – this is one of the finest golf courses in Estepona and has a range of apartments and townhouses within the development.
Playa Bahía Dorada
Our last residential area sits at the far west end of Estepona, Bahía Dorada started life as a purpose-built Mediterranean holiday resort, designed by renowned local architect Aubrey David. It has a privileged frontline beach location and a mixture of property types.
Amenities in western Estepona: generally good, although you won't find as much choice as the eastern side of the resort. However, Estepona town centre is a short drive away. Sports facilities are excellent with several golf courses and tennis clubs in easy reach.
Why buy property in west Estepona: you like the idea of living in a quieter part of the Costa del Sol but with amenities close by.
What's on the market: check out our new developments in Estepona
Need some information? Read our guide to buying property in Estepona
Choosing where you buy in Estepona
This guide offers some insight into the best residential areas in Estepona, but there's nothing like insider advice and knowledge. The Realista team can provide you with both because we know this area inside out. Get in touch now and let us find you and your family the perfect place to live in Estepona.