About this guide to Villa Padierna Palace Hotel
This guide to Villa Padierna Palace Hotel forms part of the Realista guide to iconic places on the Costa del Sol. As one of the most exclusive hotels on the Costa del Sol, Villa Padierna stands alongside Marbella Club Hotel and Puente Romano as the best in the area. The guide provides a general overview to the hotel plus information about its amenities and property at Los Flamingos.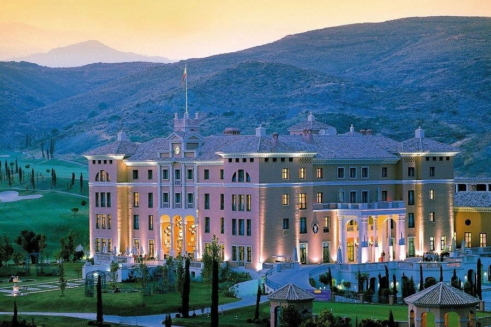 Villa Padierna general overview
Villa Padierna is one of the finest 5-star GL hotels on the Costa del Sol. Built in the early 2000s as part of Los Flamingos complex, it boasts a privileged location at the heart of the New Golden Triangle, close to some of the most popular places to buy property on the western Costa del Sol. Set slightly inland, Villa Padierna has both mountain and sea views.
The hotel has an Italian design and is modelled on a Tuscan palace with a pink façade, marble columns and hundreds of Italian antiques. The Roman-style amphitheatre in the grounds and the Roman bath spa accentuate the Italian ambience. One of the best luxury hotels on the Costa del Sol, Villa Padierna was awarded six stars in 2012 by the association Seven Stars and Stripes. The hotel is a favourite with celebrities and famous visitors to Marbella – ex-US First Lady Michelle Obama and family stayed at Villa Padierna Palace in 2010.
Extras at Villa Padierna
Like all the 5-star hotels in Marbella, Villa Padierna offers a wide range of extras. These include restaurants, a spa (considered by many to be one of the best spas on the Costa del Sol), extensive gardens and a rackets club. Despite not having a beachfront location, the hotel offers the By the Sea, a beach club for guests, just a short distance away on the beach in Estepona.
Golf courses at Los Flamingos
One of the main attractions of Los Flamingos are the three golf courses onsite. The courses, Alfernini, Los Flamingos and Tramores, all enjoy panoramic views of the surrounding countryside and mountains. They're all 18-hole and rank among the best golf courses in Estepona and Benahavís. There's also the Tramores Golf Academy by Michael Campbell for those wishing to learn golf or improve their technique. Los Flamingos hosts regular national and international tournaments.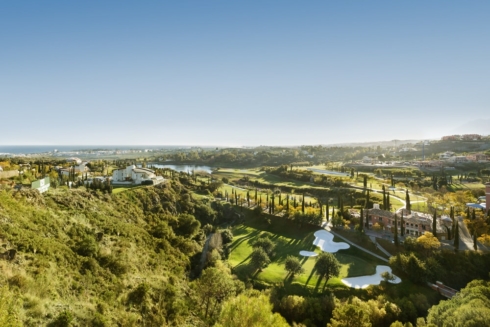 Property at Los Flamingos
Los Flamingos is home to several luxury developments offering apartments, townhouses and villas, all high-end in keeping with the 5-star ambiance throughout the complex. Plots are also available for villa construction. Please also have a look at our dedicated page listing fine property for sale in Los Flamingos.
Advantages of property at Los Flamingos include stunning views, first-class facilities onsite and easy access to the beaches in Estepona. Other resorts on the Costa del Sol such as Marbella and Puerto Banús are both just a short drive away.