looking to buy a home?
Submit this Form and Benefit from our 25 Years' Experience & Strong Local Network.
Would you like to explore a destination that offers a unique combination of luxurious amenities, natural beauty, and sophistication? Join Realista as we explore Finca Cortesin and everything it has to offer. In this guide, we will share details of the residences, the facilities, the golf course, the dining experiences, and the real estate opportunities.
Overview of Finca Cortesin
Located in the picturesque hills of southern Spain, between Marbella and Sotogrande, lies an oasis of luxury and tranquility – Finca Cortesin. This extraordinary destination is more than just a hotel; it's an experience. The panoramic views of the Mediterranean Sea flanked by the rugged Casares Mountains set the stage for Finca Cortesin, a place where nature's beauty meets human craftsmanship.
Since opening its doors in March 2009, this €350 million development has become a cherished secret among discerning travelers from around the world. It's a place where guests are drawn by word of mouth, captivated by its world-class hospitality, expansive interior and exterior spaces, unparalleled privacy, and impeccable service.
Finca Cortesin Location
Finca Cortesin is strategically located for travelers' convenience. It's just 15 minutes from Gibraltar, 50 minutes from the Málaga airport, and a mere one-hour drive from Jerez.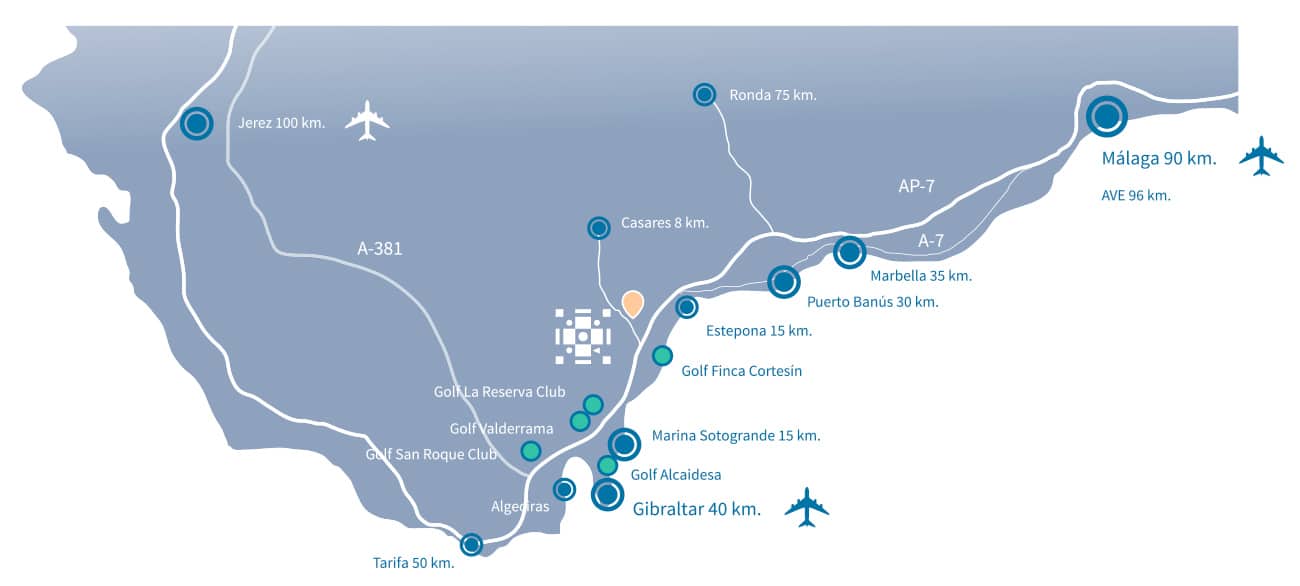 Amenities at Finca Cortesin
Apart from the ideal location, Finca Cortesin offers some high-end amenities which include:
Luxurious Suites
Lush Gardens and Pools
Famous Restaurants
Spa and Sports Facilities
World Championship Golf Course
Beach Club
Luxurious Suites
As you step into Finca Cortesin, you're greeted by an atmosphere of luxury. The hotel has 67 suites ranging from 50 to 180 square meters. Each suite is a testament to elegance and comfort. In these suites, you get a private garden or balcony and a formidable private terrace with an outdoor plunge pool in the Pool Suites. Most suites include separate sitting room areas adorned with beautiful sofas, armchairs, and furnishings. The bathrooms are designed in Italian marble and feature oversized baths and different shower areas.
Lush Gardens and Pools
The exterior of Finca Cortesin is a paradise in itself. Lush gardens, covering 23,000 square meters, provide a serene backdrop for the two swimming pools. These pools invite you to relax and soak in the Spanish sunshine, surrounded by natural beauty and architectural elegance.
Famous Restaurants
The culinary offerings at this prestigious hotel are nothing short of exceptional. Leading the way is the renowned Kabuki Raw, a restaurant that has already earned the coveted Michelin Star. Here, the talented Masterchef Luis Olarra combines Japanese flavors with Mediterranean culinary classics, using ingredients sourced from the Finca Cortesin kitchen garden and the local seafood. The result is a delectable array of culinary masterpieces that will tantalize your taste buds.
But that's not all – Sicilian chef Andrea Tunbarello holds his own at Don Giovanni, infusing the restaurant with his signature Italian exuberance. Here, he expertly crafts traditional Italian dishes by adding a modern touch, earning the restaurant two 'Suns' in the Repsol Guide.
For those who prefer a dining experience with a view, you can choose to dine on the stunning terrace overlooking the Almohad gardens and the azure Mediterranean Sea at El Jardin de Lutz. Chef Lutz Bosing skillfully prepares traditional Spanish cuisine that's a rarity even in traditional ventas. Take advantage of the opportunity to savor dishes like Spinach and Casares Cheese Ravioli, squid strips, and Sherry sauce, and discover why he was awarded a Repsol' Sun' for his culinary expertise.
Another option is the Blue Bar, which is the perfect spot to relax. Here, you can order pre-dinner cocktails on the patio lounge or outdoor terrace to enjoy Spanish tapas, sandwiches, salads, and fruits.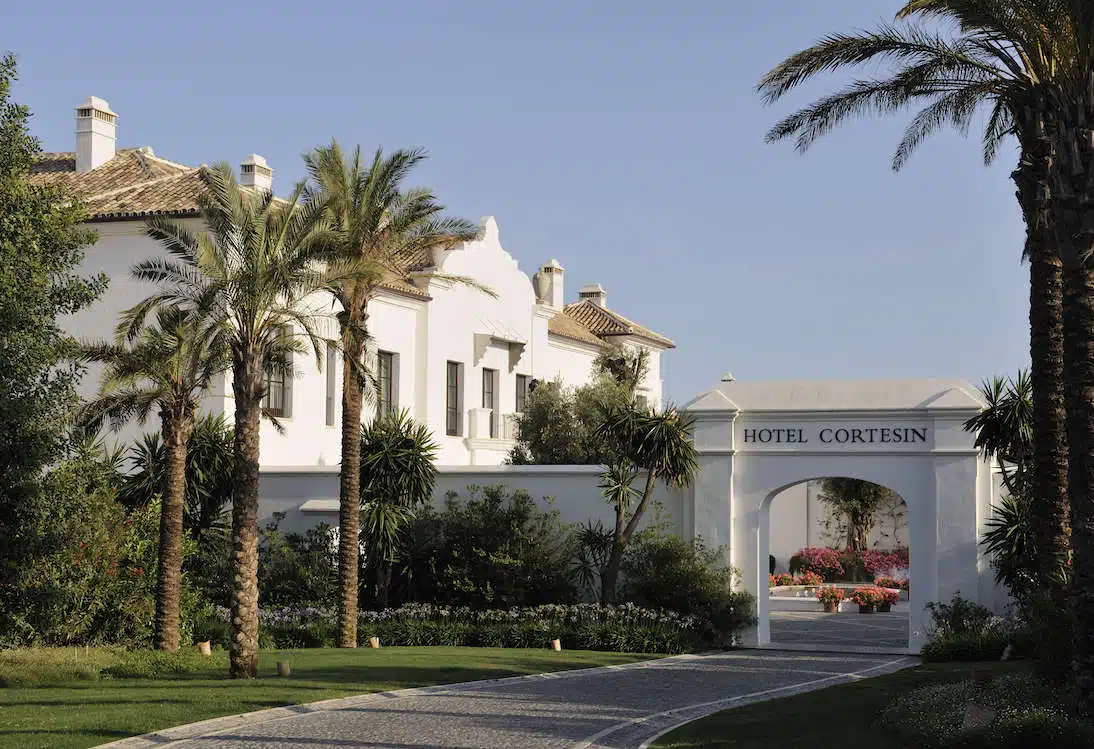 Spa and Sports Facilities
The spa at Finca Cortesin is an expansive sanctuary covering 2,200 square meters. It's divided into designated areas for face and body treatments, with eleven treatment rooms equipped with under-floor heating and heated massage beds. Guests can indulge in various therapies created by the leading French specialist, Biologique Recherche. There's even a spacious double treatment room for couples, complete with a Roman bath. The spa includes four treatment rooms located in a Thai spa area designed for oriental treatments. These treatments draw from ancient techniques from various Asian countries, offering stress relief and deep relaxation.
The spa features three thermal areas, all equipped with saunas, Turkish baths, and relaxation spaces. Guests can also enjoy the bracing snow cave, a unique feature in Spain. The spa at Finca Cortesin also features a heated swimming pool and a fitness center recently equipped with the latest wellness technologies from the exclusive collection Artis by Technogym. For those looking to enhance their fitness journey, personal trainers are available upon request. This includes yoga and pilates sessions for holistic well-being.
For guests with an active lifestyle, Finca Cortesin offers paddle and tennis courts, providing opportunities for exciting matches in an enchanting setting. There is an indoor swimming pool and a gym area, which features immense floor-to-ceiling windows, allowing you to see the beautiful views of the outdoor pool area and the Mediterranean in the distance.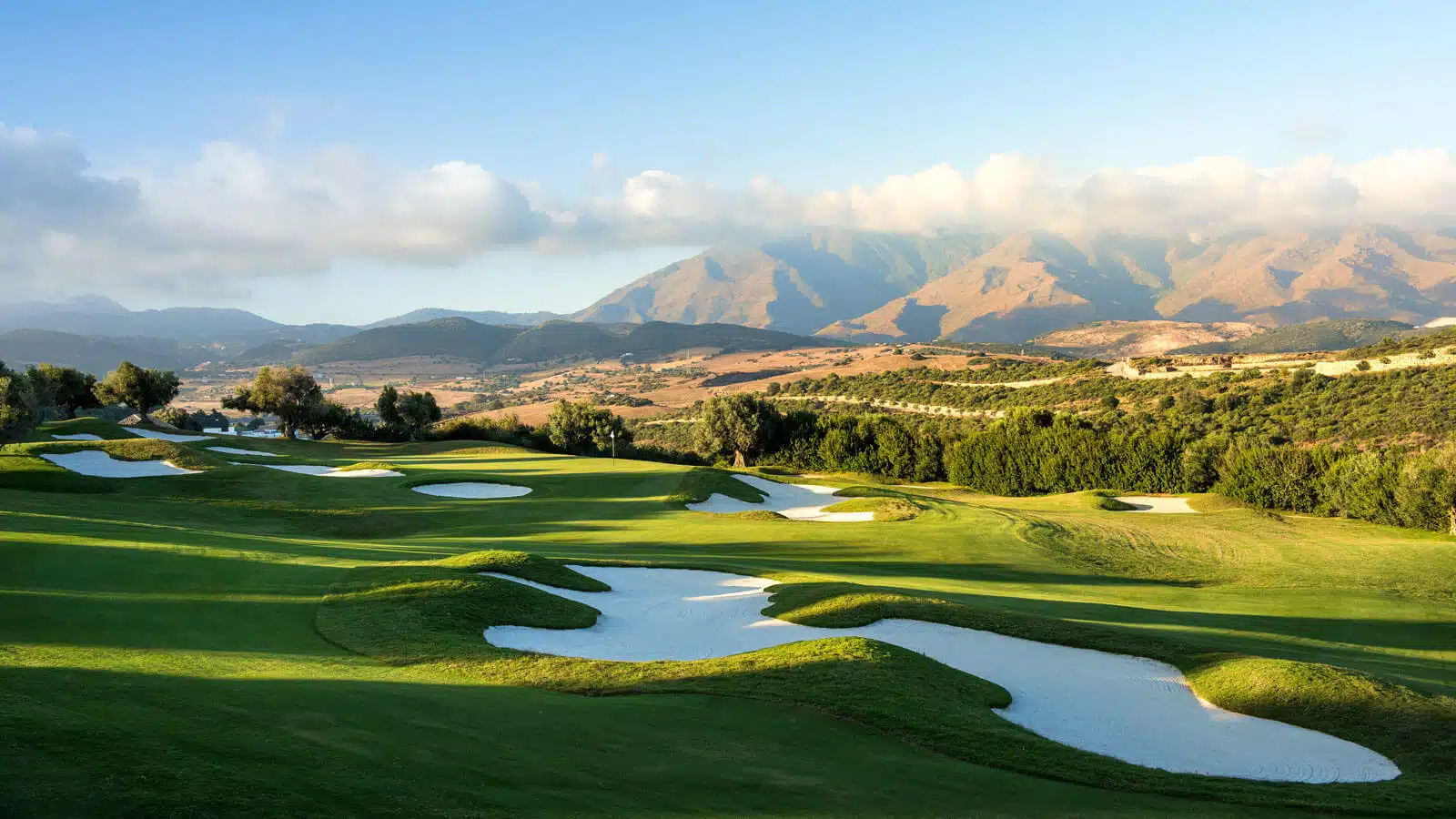 Championship Golf Course
For golf enthusiasts, Finca Cortesin offers a world-class 18-hole golf course designed by the well-known Cabell Robinson. Golf World Magazine has ranked Finca Cortesin Golf Club among the top 5 golf courses in Spain. It received worldwide recognition as the host of 'The Volvo World Match Play Championship' in 2009, 2011, and 2012.
Stretching to nearly 7,500 yards, it is one of the most extended golf courses in Europe and includes a Jack Nicklaus Golf Academy.
The Finca Cortesin golf school incorporates the use of a master franchise teaching system developed by the legendary Jack Nicklaus, widely regarded as one of the greatest golfers of all time. The facility includes a Coaching Studio equipped with advanced technology capable of analyzing a player's swing using video and computer methods. This, along with the services provided by highly qualified golf professionals, ensures that guests can improve their golfing skills during their stay.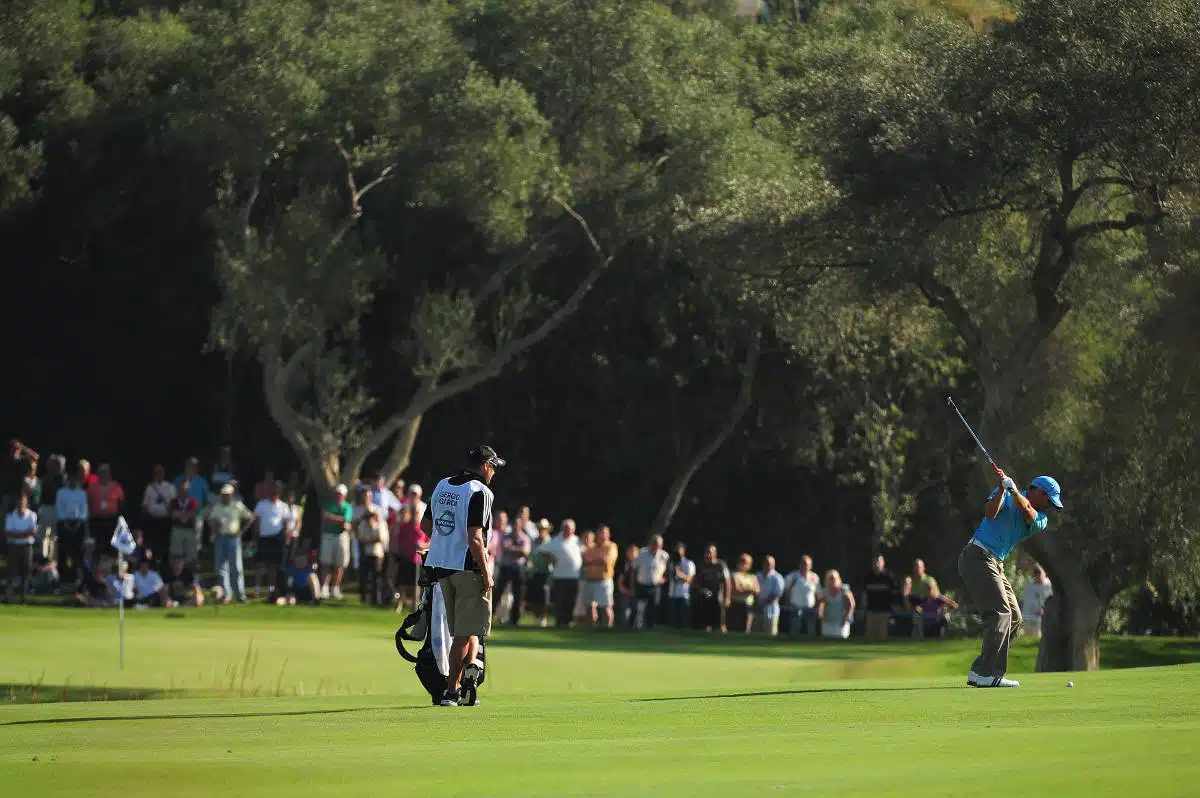 Exclusive Beach Club
A short 1 km from the hotel, the Finca Cortesin Beach Club welcomes discerning guests seeking relaxation without giving up elegance and exclusivity. The club's understated elegance is reflected in its teak wood flooring, lush gardens, Balinese beds, and comfortable sun lounges surrounding a spectacular 35m infinity pool. The club's restaurant, directly on the beach, offers the best Mediterranean cuisine, including fresh seafood and delectable rice dishes, all impeccably served in the signature style of Finca Cortesin. As dusk falls, guests can enjoy a cocktail prepared by the skilled barman while watching the sunset over the Mediterranean.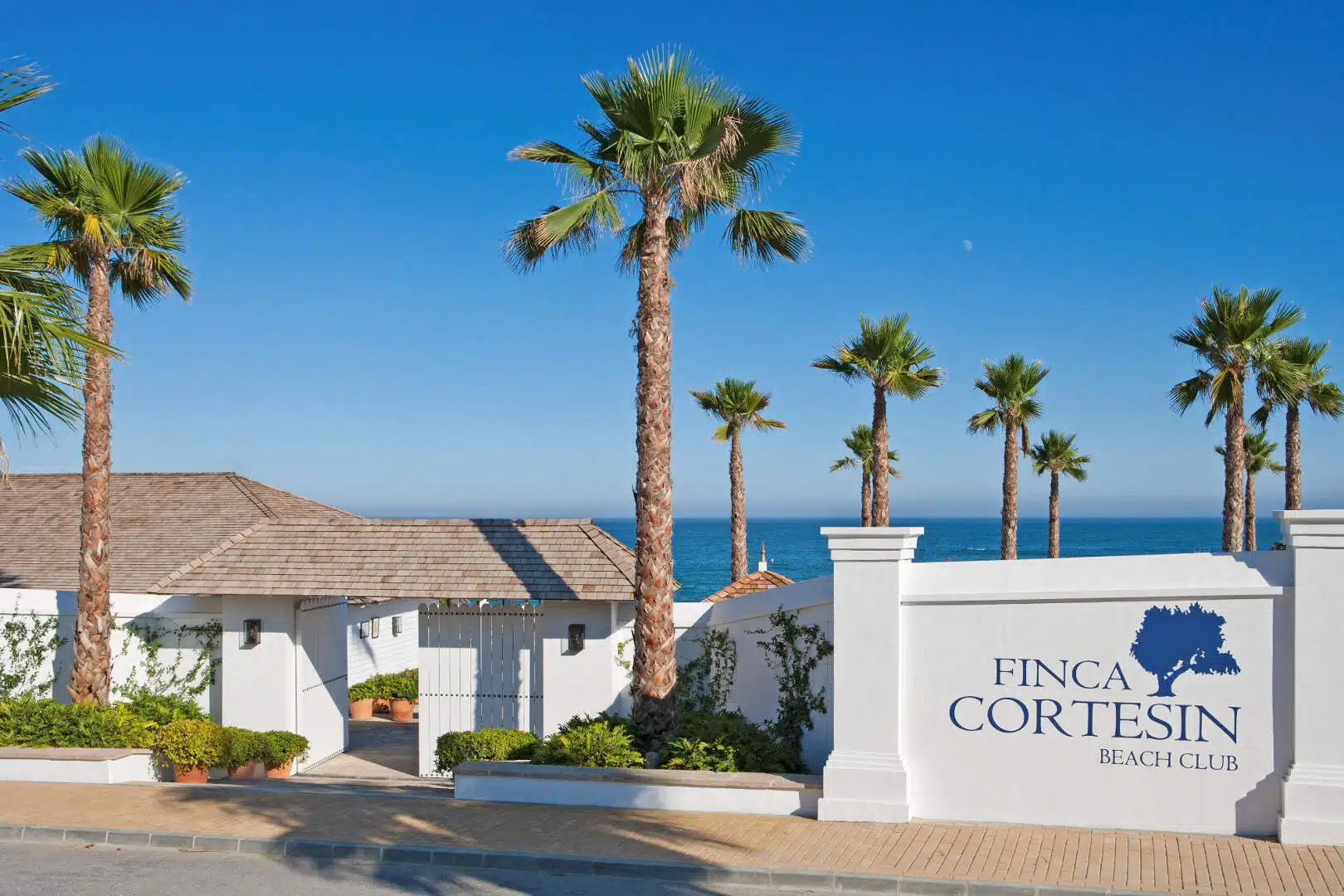 Property Options at Finca Cortesin
For those who wish to extend their connection with this ideal destination, Finca Cortesin offers the possibility of purchasing one-of-a-kind real estate, including exceptional villas, which are as follows.
Comprising 16 superbly designed properties on the frontline of the golf course, Golfside Villas offer stunning views of the sea. Each villa has private gardens and pools. These homes possess particular styles and personalities, where you have the creative freedom to determine the architecture, layout, accents, and landscaping, all while maintaining the highest quality standards.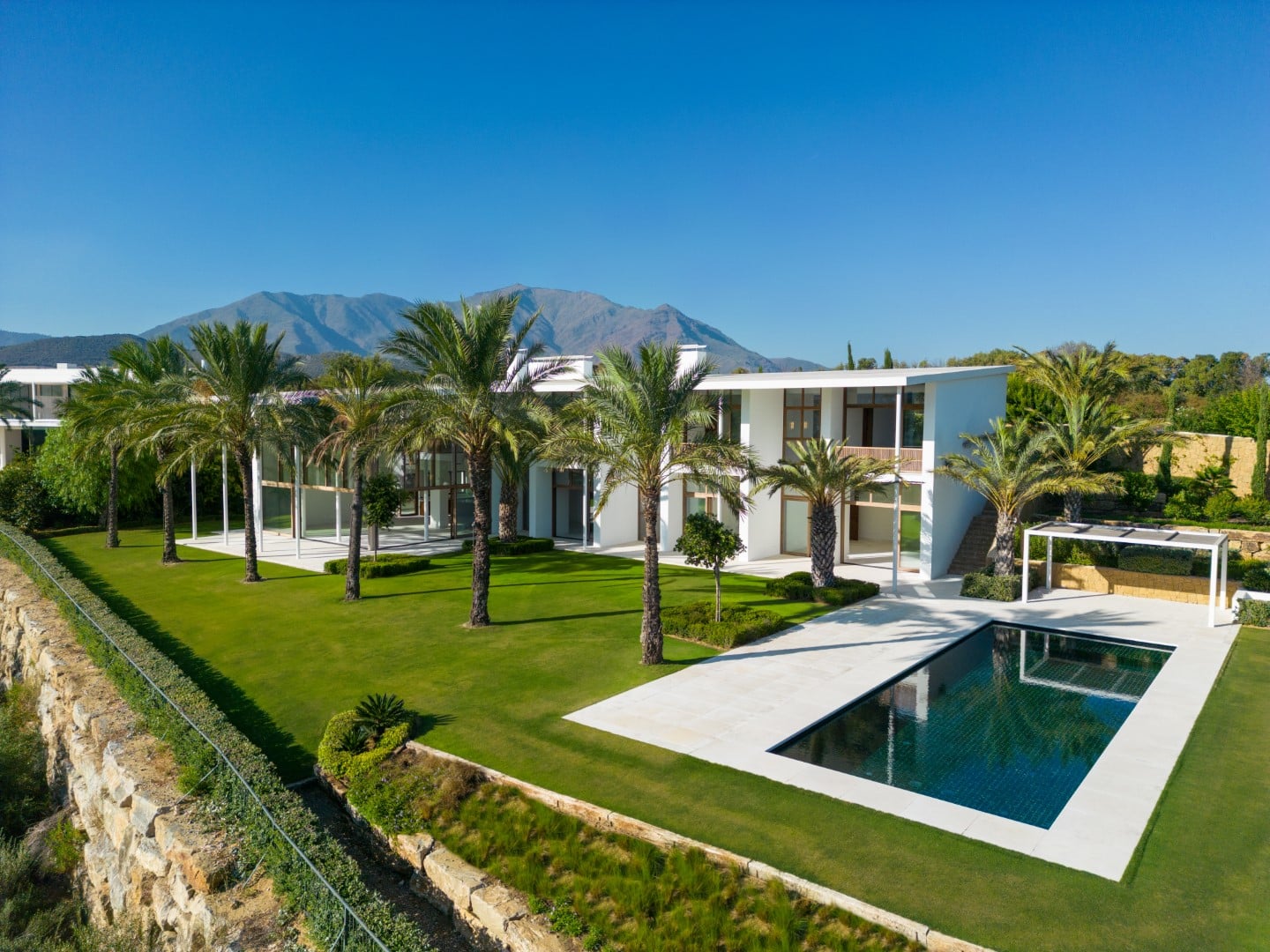 This new project of 16 villas, located between holes 9 and 10 of the golf course, concludes and consolidates the residential area surrounding the Finca Cortesin Hotel. The terrain is situated on a mountainside, ensuring that all the houses enjoy magnificent views over the golf course and the Sierra Bermeja Mountain range and, for the most part, views of the sea.
Three different villa designs have been created, featuring 5 and 6 en-suite bedrooms and living rooms with ceilings measuring up to 5 meters high. The villas have fully equipped kitchens, domestic staff quarters, parking for two cars, private gardens, and pools. Green 10 offers residents the possibility of enjoying the services of the hotel, including in-home dining, housekeeping, interior design work, general maintenance, and gardening.
As an added bonus, residents have the option of having their property rented out and managed on their behalf through the hotel.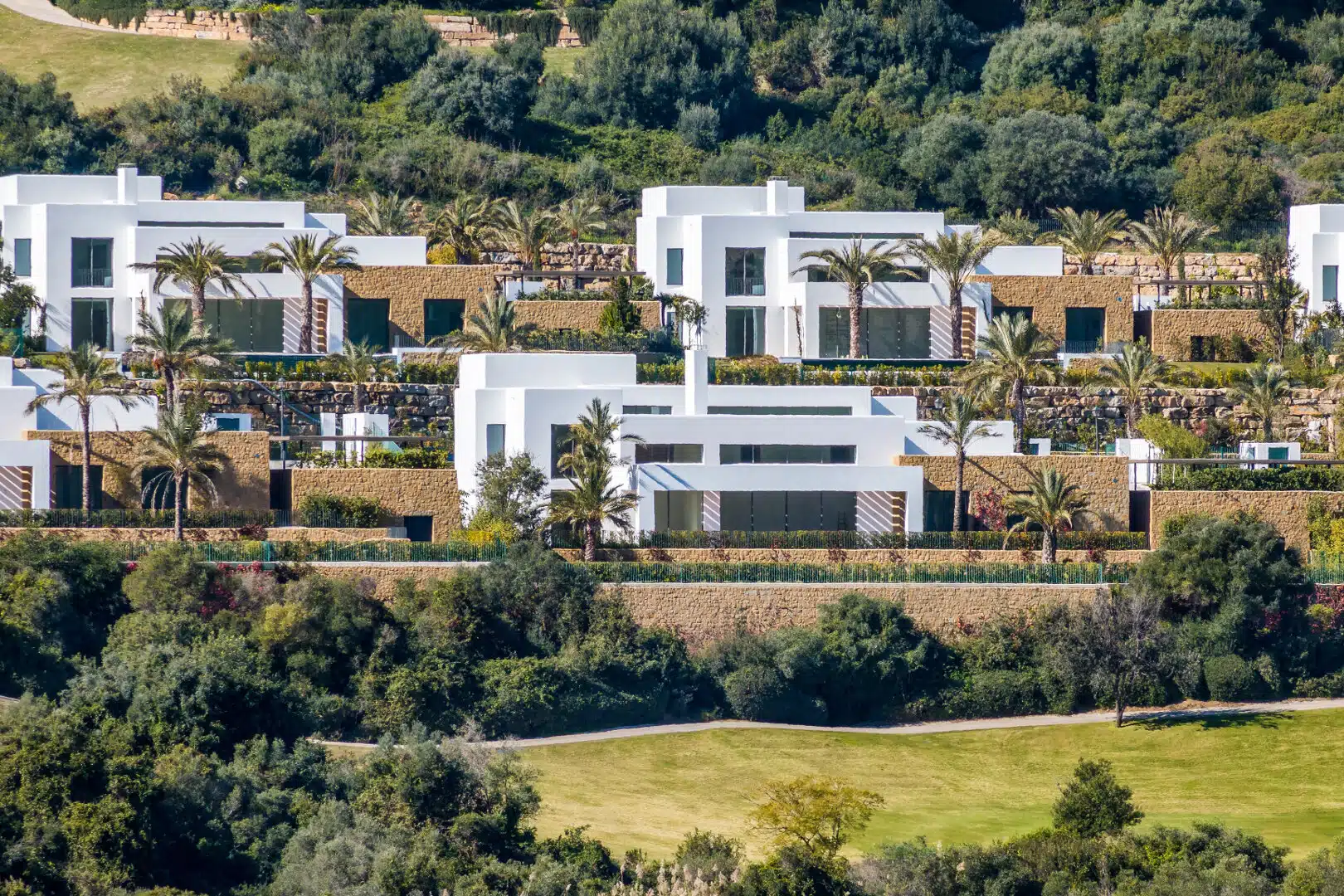 These garden residences are designed for elegance, luxury, and privacy. They come in 2, 3, or 4-bedroom options and feature high-quality materials and finishes. The spacious terraces offer great views of the Mediterranean and let in plenty of natural light, connecting you with nature. As a bonus, residents can use a 1,600m2 clubhouse with a gym, indoor pool, and spa facilities.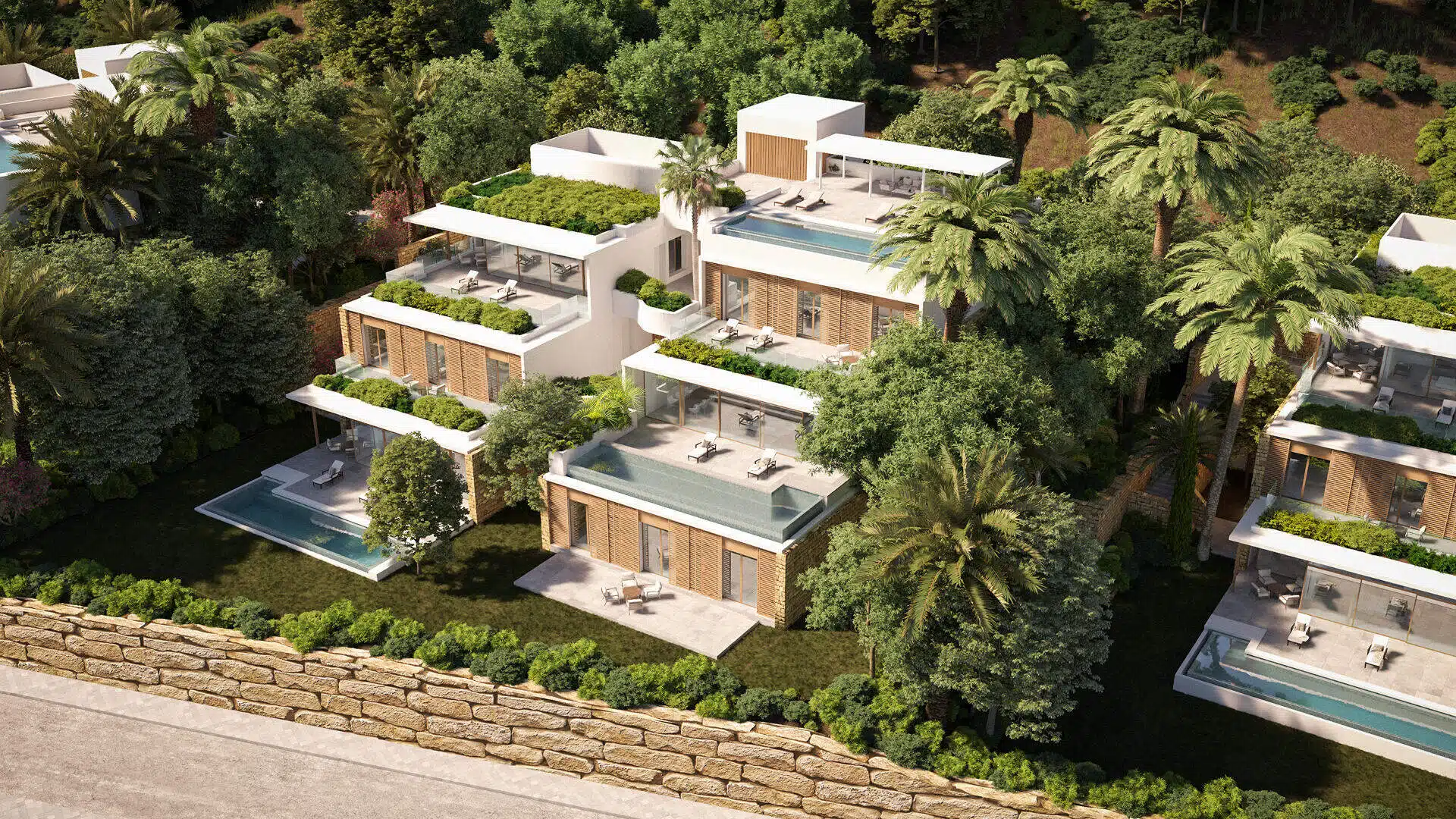 Conclusion
Whether you're seeking relaxation, fine dining, world-class golf, or the opportunity to call this paradise your home, this exquisite destination offers it all. If you're interested in exploring the property options, you can take a look at our latest listings in Finca Cortesin.