looking to buy a home?
Submit this Form and Benefit from our 25 Years' Experience & Strong Local Network.
Benahavís Revealed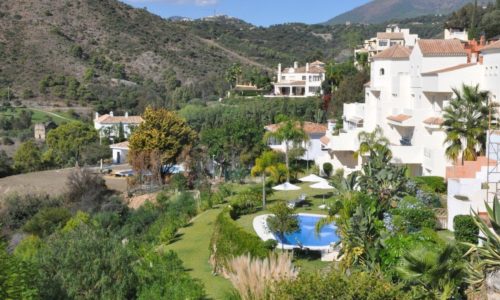 Benahavís is a small mountain village in between Marbella, Estepona and Ronda. It lies seven kilometres of the coast, which puts some people off the idea of buying a (holiday) home there. But there is much this municipality has to offer to new inhabitants. El Madronal, La Zagaleta, the Los Flamingos Golf Resort, La Alqueria, Los Arqueros and Monte Mayor Golf Resort are all incredibly popular nearby areas to live and close to the sea. Let's have a closer look at the Benahavís municipal and find out why.
Dining room of the Costa del Sol
Despite its modest size of 5,486 inhabitants in 2011, the village has got a healthy appetite. Benahavís restaurants have a formidable reputation far and wide, so it's no wonder the village is often referred to as "the dining room of the Costa del Sol". Sit down in one of the many fine restaurants here and you won't be disappointed.
Benahavís weather & surroundings
The Benahavís weather is Mediterranean just like all the coastal towns, with a medium temperature of 17° Celsius, reaching up to 30° in summer. In short, it's never very cold in Benahavís, nor is it extremely hot. For the larger part of the year, it is just right.
Benahavís & golf
Benahavís is a definite hotspot for golf fanatics, boasting 12 golf courses out of about 60 in the Costa del Sol. With more available golf courses than any other village on the Costa del Sol, there's plenty to choose from. Los Flamingos Golf, Marbella Club Resort, Monte Mayor Golf, Los Arqueros Golf and Country Club and Atalaya Golf amongst others all offer great golf courses with beautiful surroundings. On top of that, the popular private estate La Zagaleta has another two golf courses, La Zagaleta Golf Course and Los Barrancos de la Zagaleta.
Natural grace
But Benahavís remains a picturesque place above all, despite its well-visited golf courses and restaurants. When your home lies in this municipal, you can enjoy the amazing mountain and sea views from your own property. Various little streams and rivers make their way down to the sea through the little town, which is surrounded by natural parkland. If you want to live in a village with charm and natural beauty, then this should be your new home town.
Interested in living in Benahavís? Feel free to have a browse through the available luxury properties currently available or contact us for any questions.