looking to buy a home?
Submit this Form and Benefit from our 25 Years' Experience & Strong Local Network.
At first glance, you might think you'll never need to use the services of architects in Marbella unless you're buying land. But an architect is essential if you're thinking about remodelling or extending a property on the Costa del Sol. And useful if you're planning refurbishment – even the smallest projects benefit from a professional opinion and ideas.
As you'd expect in an area like Marbella, there's a long list of architects. They include Spanish and international professionals and design to different specialities and styles. Like their work, no two are the same. Choosing the right one for you is therefore something of a challenge.
But to help you, we've put together our list of the best architects in Marbella. In our almost 30 years in the area we've had plenty of opportunities to work with many studios. And the five architects in this list are the fruit of this experience.
How to choose a good architect
Of supreme importance in any design or structural work, an architect will often make the difference between dream and nightmare. Building or renovating a home using a professional will ultimately save you time, money and most of all, stress.
But how do you find a good architect? We suggest you do the following:
Take a look at their portfolio
Your first step should be to browse their current and previous work. Take a note of designs you like and also features that you don't like. Trust your gut feeling here – if you're instantly warmed to an architect's portfolio, dig deeper. Turned off straight away? Then cross them off your list.
Find out if they can do what you want
Whatever the scale of your project, it's important to find a professional who has both the experience and knowledge to carry it out. Not all architects take on refurbishment, for example.
Get a recommendation
Ask around for names of good architects. Then find out what the customer service was like, if the architect listened to the client, if they kept to the original timeline and budget…
Not sure where to start? Check out our list of the best architects in Marbella, all chosen for their professionality, high-end design and excellent services.
---
ARK Architects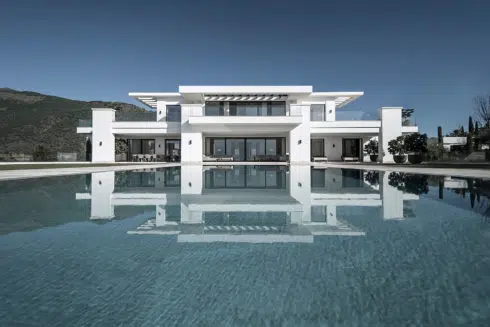 Led by Manuel Ruiz, these architects in Marbella offer a complete service from design of the home to landscaping and interiors. ARK Architects specialises in high-end design – not for nothing does their portfolio include homes in La Zagaleta and Sotogrande.
And they take the approach that designing and creating a new home is a journey. The first stage is the concept – probably the most complex step to creating a new villa in Marbella – and the last, when the owner finally moves in.
Philosophy: The team at ARK believe architecture as a continual balance between reason and emotion. Their designs seek to provide a full sensory experience – as well as the five senses, they also include the sixth sense of intuition. Their ultimate aim is to design a home that brings you "as close as possible to happiness in absolute terms".
Iconic project: Villa Vela in Sotogrande combines Mediterranean light and views encased within private gardens. Soft curves define the façade – sail-shaped like its name – with dramatic features that surprise at every turn.
More information ARK Architects
---
Carlos Lamas


Originally from Argentina, Carlos Lamas has 30 years' experience and his name graces many homes and developments in Marbella. Dedicated to design excellence, this studio offers the best of contemporary modern architecture as the villas in its portfolio clearly show.
Services also include refurbishment, particularly of older buildings that need a total facelift. The studio takes care of all paperwork to ensure that the new look conforms with local regulations as well as your requirements. They also provide landscaping and Interior design services.
Philosophy: homes designed by Lamas bring a balance of beauty and practicality. Taking your needs as a base, the design then combines aesthetics with a home to live in.
Iconic project: Rio Verde villa in Puerto Banus takes full advantage of its exceptional position on the beach. All interior spaces maximise the ocean light and come flooded with natural light as a result. The outdoor swimming pool could almost be an extension of the Mediterranean on the doorstep. Another Carlos Lamas masterpiece is Villa Liberty in La Alqueria.
More information Carlos Lamas
---
Tobal Arquitectos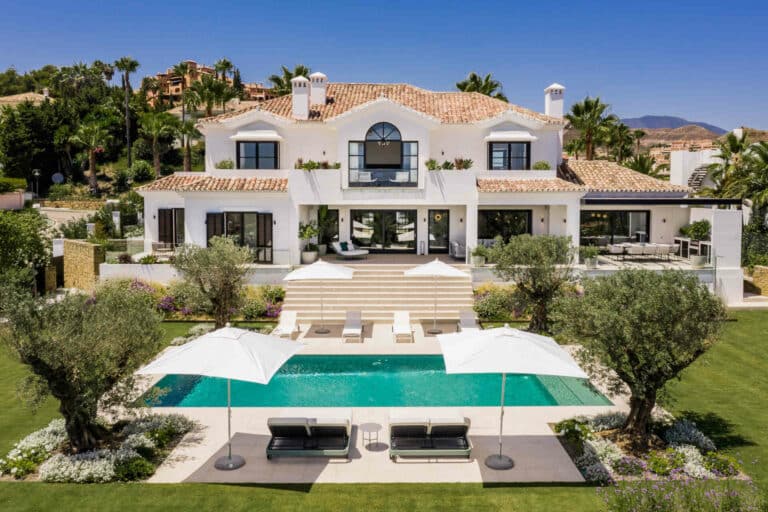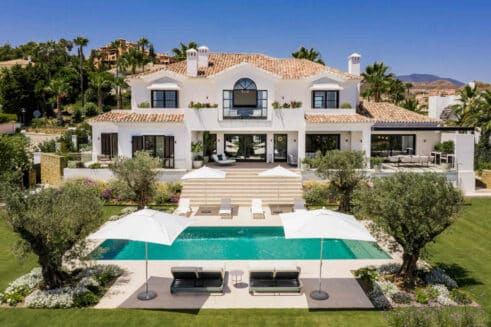 With one of the longest track records in Marbella, Tobal Arquitectos have been designed superior homes since 1980. They strive to combine traditional with contemporary and specialise in large villas.
Their signature is behind around half of those in La Zagaleta so it's no surprise to discover that these architects in Marbella offer discretion as well as rigour and dedication. Stone and wood feature in all their projects, which aim to be "as far away from bling as possible".
Philosophy: Tobal aim for a harmonious aesthetic that is also functional – in a nutshell, beautiful homes that work. They also maintain a cosmopolitan outlook with their international clients that they claim keeps them "professionally awake and open minded".
Iconic project: Villa Cullinan with a total of 3,100 square metres is one on the list of Tobal's extraordinary designs. Highlights at this villa include an oversize outdoor pool with far reaching views over Marbella and the Mediterranean. Another example of a Miguel Tobal's testament to architectual excellence is Villa Cerquilla.
More information Tobal Arquitectos
---
González & Jacobson Arquitectura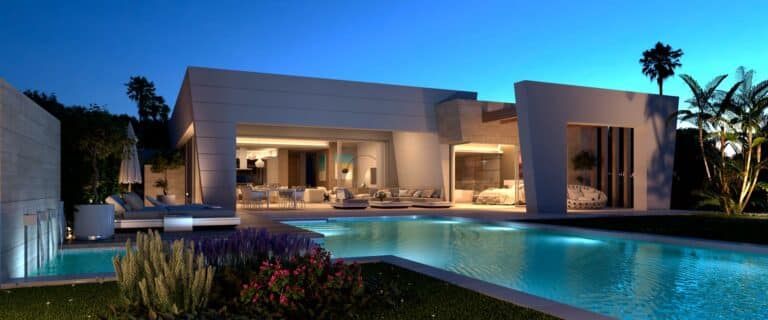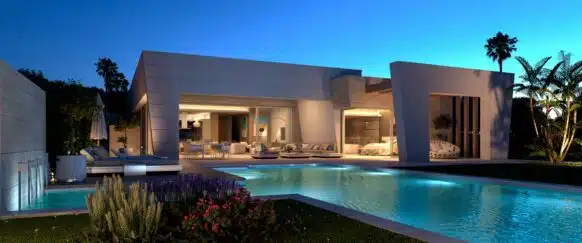 This architectural studio in Marbella has just celebrated its 25th anniversary and almost 2,400 completed projects. Its founders combine nationalities and skills – Carlos González is a landscape designer from Venezuela and Rodolfo Jacobson, a Mexican architect.
They take the Mediterranean as a focal point for inspiration. As a result, their designs strive to achieve harmony. The environment and the landscape sit on one hand and the architectural space on the other. Not surprisingly, large open spaces and oversize terraces are two of their signature features.
Philosophy: González & Jacobson believe in an integrating perspective to create "peace, beauty and wellness". Their mission is to create individualised concepts that are both aesthetic and practical in approach.
Iconic project: among their most recent creations, the 9 Sealand villas at Sierra Blanca stand out. All the homes take maximum advantage of their elevation and orientation to create spacious, unique homes that maintain privacy and benefit from their stunning location. Another great project from the hands of González & Jacobson is TreeTops Marbella, a lovely creation of semidetached villas on the edge of Guadalmina Golf.
More information González & Jacobson Arquitectura
---
Villarroel Torrico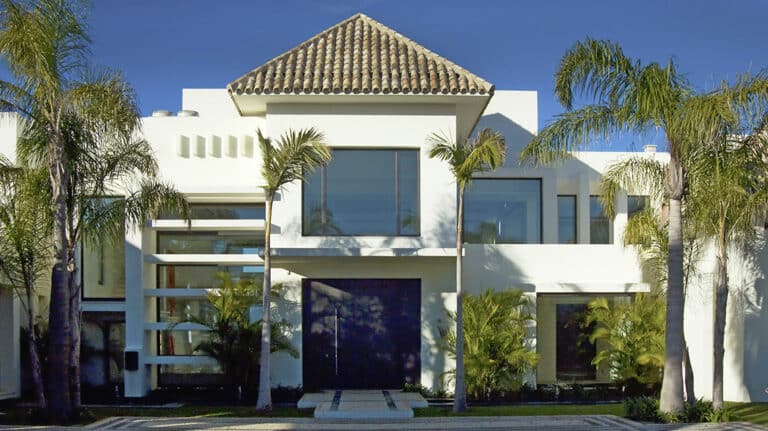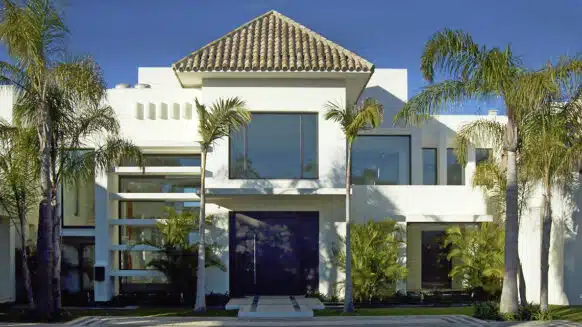 An absolute must to include on any list of the best architects in Marbella, this studio has been designing iconic spaces in the area for over 40 years. Founded by Melvin Villarroel, the company is behind some of the most beautiful complexes on the Costa del Sol. Examples include Puente Romano Hotel, Alhambra del Mar and the extension at Marbella Club Hotel.
Villarroel Torrico continue to base their designs on "empty space" with nature at the forefront. As a result, gardens and outside areas share the limelight with interiors and both are equal protagonists. As well as architectural design, the studio also offers landscaping and planning services.
Philosophy: natural space lies at the forefront of all Villarroel designs – the company aims for designs that occupy no more than 25% of the land. Their mission is to change the way exteriors and interiors interact.
Iconic project: La Alzambra in Puerto Banús counts among the studio's signature garden property projects. Here, nature takes centre stage in the complex where stylish Moorish-inspired apartments circle rolling Mediterranean gardens.
More information Villarroel Torrico
---
Create your dream home from scratch
By buying a prime plot on the Costa del Sol. Perfect if you're looking to create the home of your dreams exactly to your specifications. For some inspiration, take a look at our selection of land for sale in Marbella, Estepona and Benahavís.
Further recommendations
We know these are the best architects in Marbella because our clients have worked successfully with them in the past. If you'd like further information about the studios or are looking for advice on how best to approach a project needing an architect, contact us. Our team will be only too happy to help.