looking to buy a home?
Submit this Form and Benefit from our 25 Years' Experience & Strong Local Network.
In these uncertain times, getting a Covid test has become essential in several scenarios. The most common one for our clients is travel. Many countries, including Spain, now require proof of a negative test for entry. Your home country may also ask you for one when you return. It, therefore, makes sense to know where to get Covid tests in Marbella.
Do I need a Covid test to come to Spain?
Yes. As of late November last year, Spain introduced Covid testing as part of the immigration procedure. All travellers over 6 entering Spain by air or sea must produce proof of a negative test carried out within 72 hours of arrival.
Valid Covid tests are PCR, RT-Lamp and TMA. Antigen tests are not accepted.
The test document (in English or Spanish) must show the negative result and technique used together with your full name, passport number, date of test, name and contact details of the clinic that carried out the test.
Note that the 72-hour period is up until the time of your arrival in Spain, not your departure time.
Do I need a Covid test to return to my home country?
Many countries have introduced compulsory tests, although requirements vary considerably. The situation also changes often (sometimes overnight), so we recommend that you check with officials in your home country to make sure you comply with regulations.
What about timing for a Covid test?
If you need a Covid test in Marbella before you go home, the timing may be vital. Bear in mind that many clinics close at weekends and some tests take 48 hours to get a result. This means booking your test so that it can be done within the required time constraints (e.g. 4 hours before flying or 72 hours before arrival) and so that it fits in with the clinic timetable. Some of the clinics in our list below have 24-hour laboratories and/or provide results within 12 or 24 hours.
Our recommendation
If you're visiting Marbella for just a few days, we advise you to make arrangements for your Covid test in advance. If possible, book your test beforehand so that you know you have an appointment arranged.
When flying from the airport Málaga, it is possible to book appointments for PCR, Rapid Antigen and Rapid Antibody tests on the airport at the Travel Covid Test Center.
Need help with this? Get in touch with our team for assistance in booking a test on your behalf.
Does private health insurance cover Covid tests in Marbella?
Some policies do include Covid tests – check with your insurance company before you leave your home country.
What sort of Covid tests are available in Marbella?
Before we list the clinics, it's helpful to summarize the sort of tests available.
PCR – the test you need to enter Spain involves a nasopharyngeal sample and reveals whether you have the virus in your body at the time of the test. A PCR test does not tell you if you've had Covid in the past. The result for this test usually takes 48 hours.
TMA – this test (an alternative to a PCR to enter Spain) shows if you have the Covid virus in your body when the test is taken. It does this through a nasal swab and the result is usually available within two hours, a considerably shorter timescale than a PCR.
RT-Lamp – another alternative to a PCR, this test follows a similar technique to the TMA tests and reveals the presence of Covid in your body. It also involves a nasal swab and results generally come through in under 90 minutes.
Serology – this Covid test tells you if you have antibodies to the virus. It works by taking a blood sample through IV no sooner than three or four days after you develop symptoms. Results are ready in 48 hours.
Rapid (antigen) test – this also tests for antibodies, but only works if you're tested at least seven days after developing symptoms. A small blood sample is taken from your finger, and results are available in 10 to 15 minutes. If you test positive, you must take a PCR test.
Marbella Clinics for Covid tests
The following clinics in Marbella offer Covid tests:
Atlantic Clinic has a full package of Covid tests including an ultra-rapid PCR with results ready in 4 hours. This is available out of usual clinic hours and at weekends, from €60.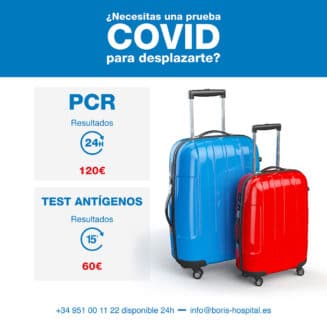 Boris International Medical Clinic has fast PCR testing (results in 24 hours) as well as antigen tests. Prices for individuals start at €60 and packages are also available for couples and families.
Clínica del Río has facilities for PCR and antigen tests at their clinics in San Pedro de Alcántara and Estepona.
Clínica Premium does rapid Covid tests only with results in 15 minutes for €55.
German Clinic offers rapid tests (results in 8 minutes) and PCRs with results in 24 hours.
HC Marbella has PCR testing facilities onsite so results can be available within 24 hours.
Helicopteros Sanitarios have rapid and PCR testing facilities at their clinic.
Hospital Ochoa has facilities for different Covid tests, including PCR.
Quirón Salud offers the full range of Covid tests in Marbella with PCR results ready in 24 hours. Prices for tests start at €40.
Synlab does antibody and PCR tests and has the option of home testing kits. From €45 and you can book online.
Covid tests in Estepona
Cenyt Hospital offers all three types of Covid tests with prices starting at €45. Online appointment booking is available, although the hospital recommends booking a PCR by telephone.
Hospiten can do rapid and PCR Covid tests.
Have we missed anywhere for Covid tests in Marbella?
If you know of any other establishments that provide Covid tests in Marbella, please let us know. It's in the interests of everyone to stay safe and the more reliable information we have, the better.
Need some help with getting a Covid test in Marbella?
If you need a Covid test during your stay or for travel arrangements when you leave Marbella, get in touch. We'll be only too happy to help you book an appointment at a clinic convenient for you. Please feel free to contact us.