looking to buy a home?
Submit this Form and Benefit from our 25 Years' Experience & Strong Local Network.
One of the most 'local' high-end Spas in Marbella
The wealth of luxury spas in Marbella will be enriched once more with the coming of one the industry's earliest pioneer in sustainability. Six Senses Spa Marbella will set up to become a centre of high-end facilities, rooted in local Andalusian culture and offering a wide variety of health and beauty treatments.
A fitting location
Early February, the famous Puente Romano hotel confirmed the coming of the luxurious Spa to Marbella. The beach resort, which has a peaceful and charming Andalusian beachfront village character, will be the perfect host for the Spa. Taking the cue from Six Senses' philosophy, the spa's design combines indigenous features such as hand-painted tiles and whitewashed walls together with locally sourced materials and natural stone. This combines their environmental commitment with a true appreciation for local culture. The design features connect seamlessly with its location overlooking the welcoming, sunny beach and Mediterranean sea.
Incredible design
Six Senses Spa Marbella will aim to help people reconnect with themselves, others and the world around them. To do this, they have created an incredible design which is authentically Andalusian and at the same time luxuriously modern. For example, the contemporary wall designs are created from blue and white painted tiles and are complemented by natural oak timber floors, arched doorways and vaulted ceilings. These architectural elements were inspired by the historical past of Marbella, including Spanish and Moorish accents. They invoke a unique ambience that feels elegant, authentic and inviting.
A highlight of this Andalusia-inspired architecture is the wet area. Elegant columns and high-arched ceilings evoke a strong yet graceful Moorish character. This is complemented by the use of crema marfil stone and intricately woven screens that filter the sunlight. The playful reflections these create in the blue-tiled hydrotherapy pool really sets the tone for the area, which also includes a hammam, sauna, herbal steam room, cold plunge pool and heat and ice experience showers with different types of water flow and mood lighting.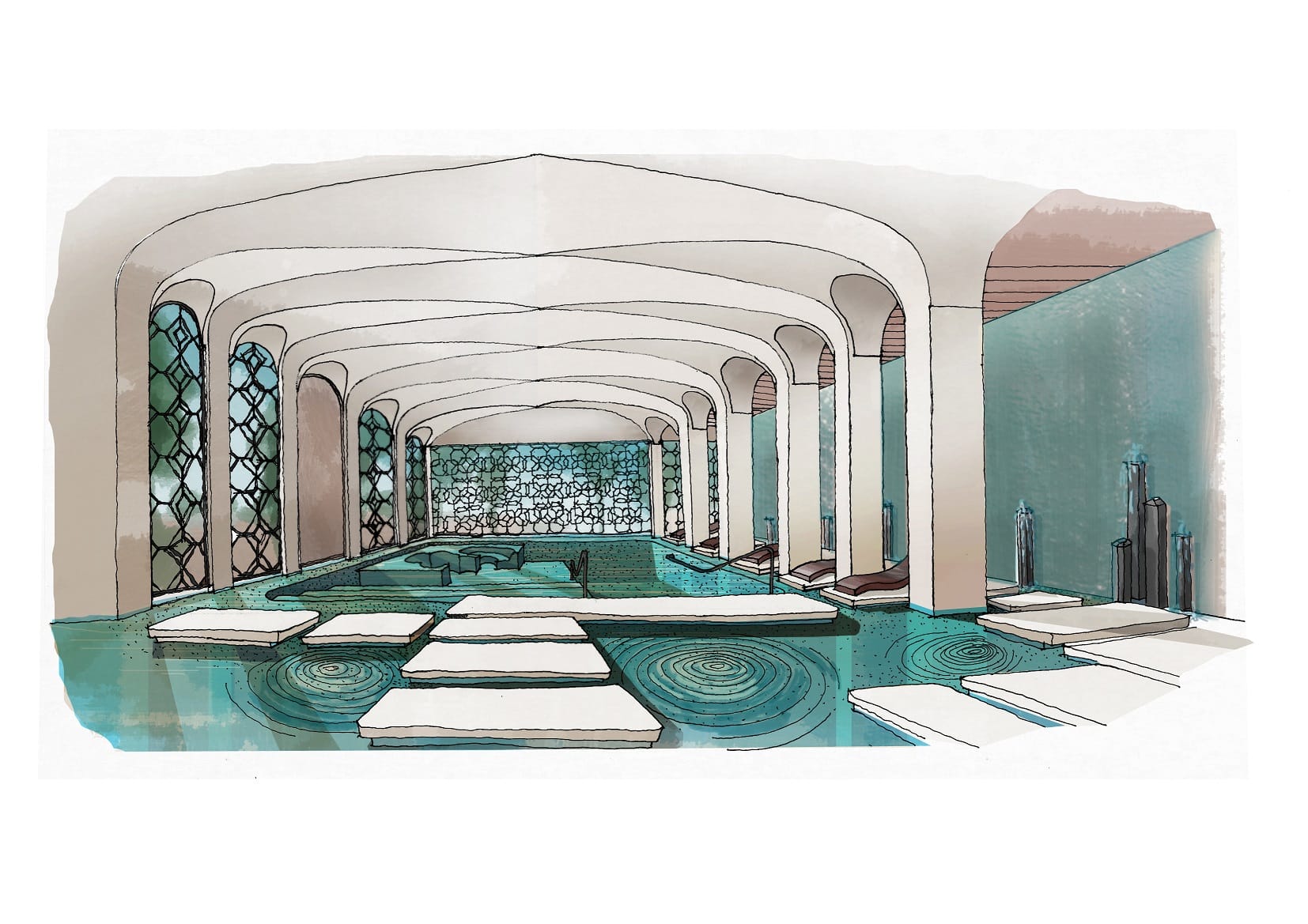 Spoiling all of your senses
There are many treatments and facilities available at the new Six Senses Spa Marbella, catering to every individual's needs. Just standing in one of the reception, lounge, waiting or relaxation areas will leave you awed by the mesmerizing interior design. The treatment rooms, including those outside with canopied roofs and swing cabanas, allows you to reconnect with the abundant nature and surrounding environment whilst being given the finest health and beauty treatments. There are Six Senses Spa signature massages, facials and body treatments, wellness therapies and rituals as well as beauty and fitness treatments. Locally-inspired options combine sea salt, olive oil and rich mineral with indigenous herbs to offer an authentic Andalusian experience. And if that isn't enough, Six Senses Spa Marbella also plans to introduce a series of yogic programs and integrated wellness retreats to offer the most personal experience possible. With so much to offer, it's hard to wait until it finally opens early summer 2015!
As a high quality search agent with a focus on quality property in Marbella and surroundings, Realista is keen to offer her clients a glimpse of what living in Marbella is like. We regularly post about lifestyle and luxury properties in Marbella. Check back to this blog often to stay up to date!