looking to buy a home?
Submit this Form and Benefit from our 25 Years' Experience & Strong Local Network.
What it's like to live in the Los Flamingos Golf Resort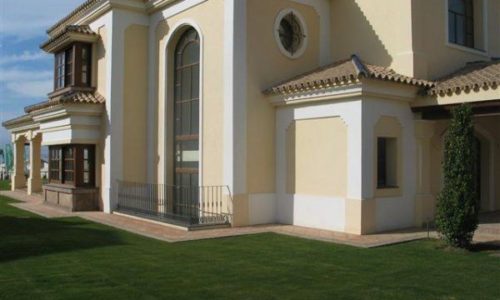 For many, the Los Flamingos golf resort brings back memories of green tees, beautiful vistas and, of course, an excellent game of golf. But Los Flamingo's, which takes its name from the lake 'Los Flamencos' in the middle of the course, offers more than just golf alone. A lot of people also call the place their (holiday) home, because the resort offers its inhabitants many advantages which allows them to enjoy life to the full. Curious why that is? Then read on about what it's like to live in the Los Flamingos Golf Resort.
The Los Flamingos golf course
Naturally, the first advantage the course itself. If you're a fanatic golfer you can eat your heart out here. The whole course is designed around a natural lake and offers at least three courses, of which two are used for championships: Los Flamingos Golf and Alferini Golf. With lengths of respectively 5714 and 6641 meters, these two are especially suitable for long hitters. There's also Tramores Golf, a par 63. Every year various games are held on the courses, which is an obvious sign of their quality. Advanced facilities and excellent service will make any golfer feel at home here.
The view
And then there's the views. You can enjoy extensive vistas of not only the beautifully designed golf course, but also the natural lake and of course the Mediterranean Sea. Whether you're playing a game of golf with friends or relaxing in the privacy of your own garden or balcony, the amazing views are always there to greet you.
Hotel Villa Padierna
On the Los Flamingos Golf Resort you can also find the five star Villa Padierna Hotel. This exclusive hotel was recently voted the number one New Hotel in Europe and one of the 30 Leading Hotels of the World. With such titles, you can expect perfectly prepared food and drinks as well as outstanding service. From a refreshing drink after a game of golf to an elaborate dinner with family in the evening, Villa Padierna is keen to cater to your every need. And did we mention the gorgeous Spa? Let yourself be pampered after a day of shopping and you'll be all fresh to enjoy the night.
The Weather
Of course, no ideal home is complete without sunny weather. Just like the surrounding area, living the Los Flamingos Golf Resort means you can enjoy the mild weather of the Mediterranean climate all year long. Little rain, lots of sunshine and always pleasantly warm. With blue skies and a warm sea, what more do you want?
Beach & Facilities
The Los Flamingos Golf Resort is only minutes away from it own Villa Padierna's beach club Club de Mar, located right on the beach, just 1 kilometre from the hotel. The Los Flamingos Golf Resort is at short distance to the famous Puerto Banus and the vibrant towns of Marbella and Estepona. There's plenty of amenities nearby in Benahavís, but it has a peaceful atmosphere that is much sought after in this jetset area.
Food & Drinks
Villa Padierna is not the only place that offers excellent dining for residents of the Los Flamingos Golf Resort. Benahavís restaurants are known for their amazing cuisine, as the village is often referred to as "the dining room of the Costa del Sol". You can take your pick from the many great bars and restaurants.
The Houses
Last but not least, the quality of Los Flamingos property for sale is simply amazing. Houses are finished off to a high standard, with excellent built-in kitchens appliances, luxury bathrooms, standard air-con and other things that allow you to live in ultimate comfort. And you don't have to worry about security either, as private gated communities with on-site security guard make sure your home is well looked after. Are you interested in living in such an amazing home? Then why not browse the villas and apartments available in Los Flamingos below!