looking to buy a home?
Submit this Form and Benefit from our 25 Years' Experience & Strong Local Network.
There are many exclusive homes and luxury villas in Marbella, but perhaps the best ones are villas with a private swimming pool. When the weather is warm, there's nothing more relaxing than to dip into the cool water in your very own backyard. Unsurprisingly, having a home with a pool is not uncommon in Marbella. But there are some that simply top all others. Have a look at these five amazing luxury Marbella homes for sale with pools:
5. Villa in Alhaurin de la Torre
The courtyard in this villa in Alhaurin de la Torre is all pool. With plenty of seating all around in the cool shade, it's easy to go from sunbathing to a dip in the water to a nap in the shade. Hemmed in by your own home and yard, this pool provides plenty of privacy. Whether you're having a party or it's just you, this swimming pool is the perfect place to lounge.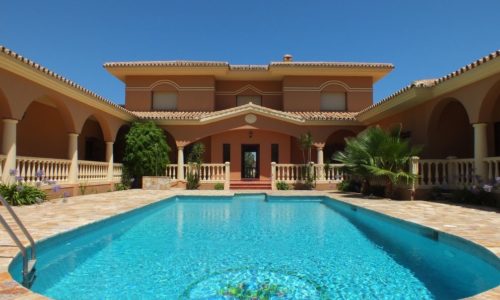 4. Andalucía style villa on the new Golden Mile
Number four on our list of amazing luxury Marbella homes for sale with pools is this villa in Andalucían style in Sun Beach, on the 'new' Golden Mile. If you know you sometimes need a quiet, relaxed swim away from the hustle and bustle of the public beaches, then this would be something for you. Inspired by Buddhism, this peaceful swimming pool plus Jacuzzi offers a sheltered hideaway to exercise or relax in private.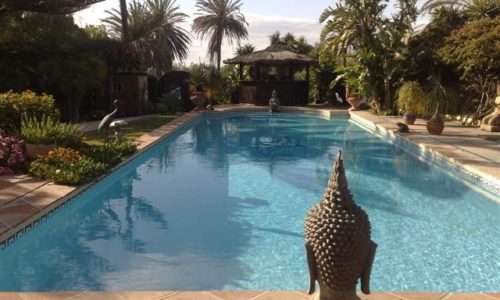 3. Frontline Beach Penthouse in Estepona
Sometimes, people think buying a Penthouse means no swimming pool. However, everything is possible with Marbella homes, and this frontline beach penthouse in Estepona proves just that. Built for relaxation, this terrace pool offers amazing views of the sea and the Strait of Gibraltar. Enjoy eating a meal outside and relaxing in the pool afterwards with a good glass of wine. Day or night, this pool and its surrounding terrace are all you need.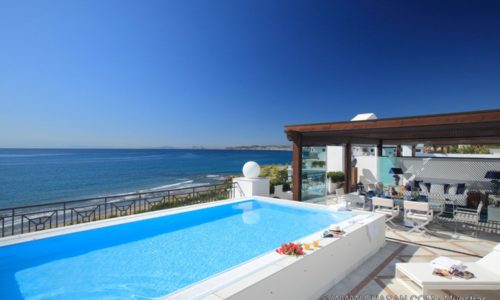 2. Contemporary villa in Benahavis
Talking about views, here's another one of our amazing homes for sale with a pool. This swimming pool and its deck look out over the Mediterranean, the surrounding mountains and the coast. You could spend all day watching the beautiful vista from this infinity-style pool. And with a sleek contemporary design as the backdrop, this villa gets a well-deserved second place on our list.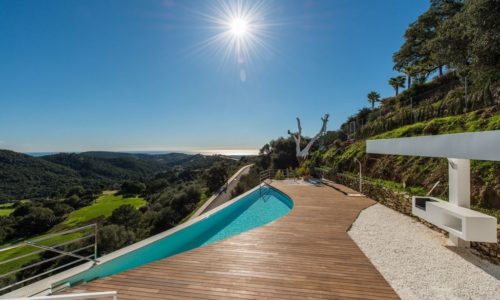 1. Balinese Mansion in Los Monteros Playa
Our number one is a spacious villa in Balinese style. The large pool is surrounded by a lush garden, making you feel like you're in a small paradise of your own. Large vases and statues give the area an elegant, stately feeling. Plenty of cosy seating spots make sure this large area doesn't get too impersonal. And when you're feeling social, there's a bar and barbeque area to keep your guests supplied with food and drinks. Without a doubt one of the best Marbella homes for sale with a pool.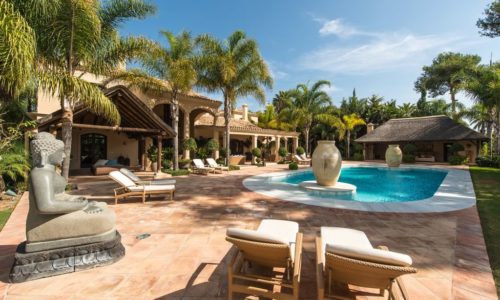 All of these Marbella homes for sale with pools are offered by Realista. If you're interested in one of these luxury villas in Marbella, feel free to have a closer look on the detail pages of each home or to contact us directly for questions.