looking to buy a home?
Submit this Form and Benefit from our 25 Years' Experience & Strong Local Network.
You probably already know that living on a golf course has all sorts of advantages. But with such a vast choice of golf courses near Marbella and Puerto Banús, how do you know which one is the top choice when it comes to buying a house? Let us give you a hand by showing our own selection of the 5 best golf courses near Marbella. You can be the judge!
5. Las Brisas Golf
Located in a long stretch of the Nueva Andalucia golf valley, the Las Brisas golf course club, in their own words, "aspires to be the private club of choice for those who appreciate an exceptional golf experience in a relaxing social environment." Members and guests can enjoy one of the older, more established courses around. Originally founded by the famous D. José Banús in 1968, the golf course and its club breathe history. The World Cup has been held here twice, and especially after recent renovations hitting the greens is a real treat. And when you've worked up an appetite at the end of the day, there's the excellent restaurant at the club house to welcome you. A well-earned place in our top 5 of best golf courses near Marbella.
4. Los Naranjos Golf
The Los Naranjos golf course was designed by the same famous architect that delivered the Las Brisas golf course; Robert Trent Jones. In those days, there was still ample land available for development. This is why the site is a fine and carefully chosen location, with "70 hectares of perfect golfing land with subtle undulations, a river running through and an orange groove from which the course got its name." This course featured in many important games as well and has a standard championship layout. When you live here, you'll find the course challenging enough as a regular player but also suitable enough to bring new players along.
3. Los Arqueros Golf
Situated nearer the impressive mountain range, one of the main things the Los Arqueros golf course has going for it is its stunning surroundings. Designed by professional golf player Severiano Ballesteros, our no. 3 of best golf courses near Marbella follows the lie of the land and blends harmoniously with the natural landscape. If you like challenging holes in a peaceful setting, then this is definitely the golf course to live near. The golf course is known to be tricky and conquering it can take some time. With a home nearby, you can try as often as you like.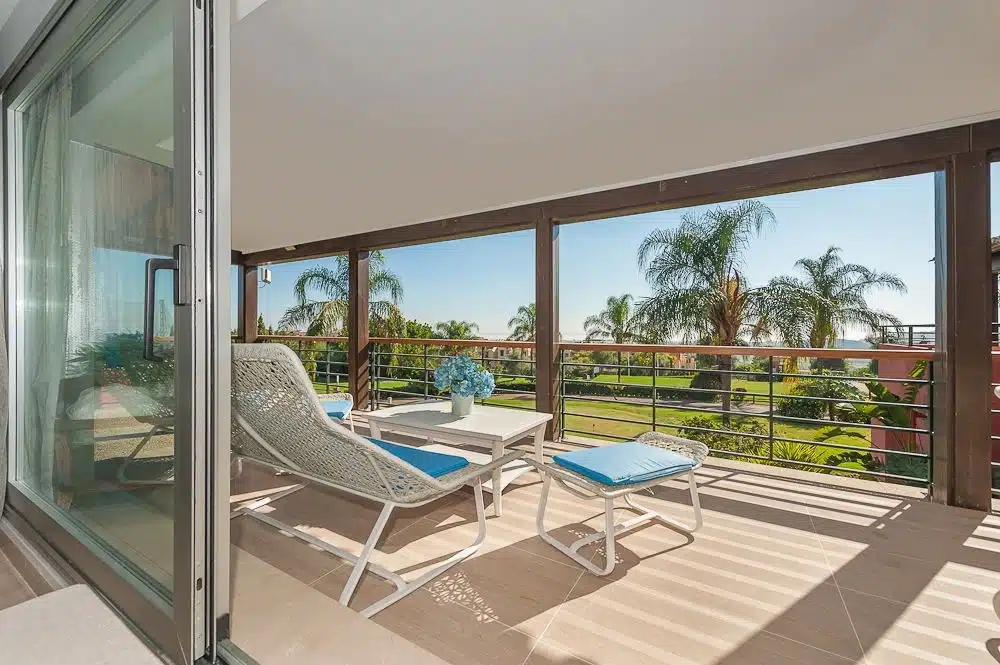 2. El Paraiso Golf
Close to the sea, this excellent golf course is not just inviting to live by thanks to its perfect holes. It's also very easy to switch from a game of golf to relaxing on the beach, with many an excellent restaurant nearby. Flatter than most of the courses in the surrounding area, you can focus on playing golf rather than manoeuvring your buggy up and down the hill. With friendly personnel and an easy-going atmosphere, El Paraiso gets a good no. 2 on our top 5 of best golf courses near Marbella.
1. Los Flamingos Golf
Our number one golf course goes to the Los Flamingos golf course. It is part of a larger luxury estate that offers all the finer things in life for its residents. There's a spectacular club house with an excellent restaurant which offers exclusive services to members and residents. Not one but three courses offer different styles of game play to different golfers. But most importantly: they are kept in an excellent condition at all times. It's this variation and quality which continues to attract many members, residents and visitors alike to the beautiful estate. The well-earned number one on our list.
Are you convinced by these 5 best golf courses near Marbella? Then why not have a browse in the selection of homes below. And who knows, soon they might become your new home courses!